Christmas is in just a few days and I haven't known what to cook for Christmas. Do you get the same problem as I am? Well, my daughters ask me to roast the turkey for Christmas dinner. Turkey is a big bird that not easy to conquer, don't you think so? However, I cannot say no to those little angels, so I decided to practice in the kitchen for making a delicious and crispy turkey. Sounds great right, but it really takes a lot of efforts.
This time, I would like to share with you some tips in making a crispy yet juicy roasted turkey for Christmas dinner. I have been through some trial and errors, but the good news is I succeed in making a delicious roasted turkey for my family. You don't have followed the errors I made in the kitchen a couple of days ago. Just follow my tips.
Salted Turkey
The salt functions to keep the moisture of the turkey. This step is important and you cannot skip this step since this made the meat juicy and tasty. You can salt the turkey one night before you cooking it. Just sprinkle the salt on all over the turkey and leave it for overnight without cover it. You may put the salted turkey on the fridge.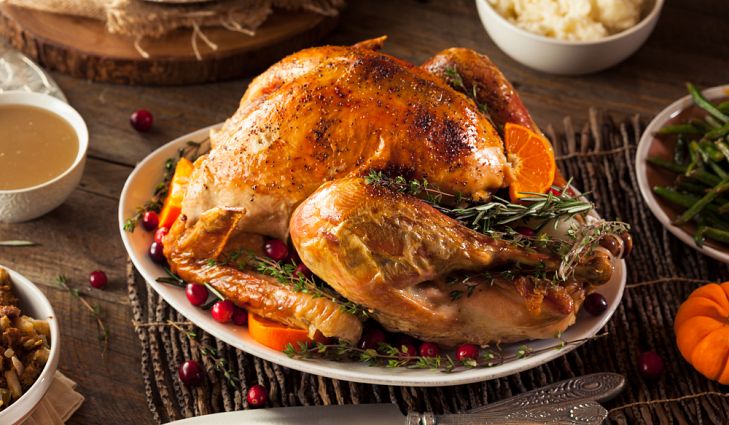 Used Little Baking Powder
The baking powder can make the turkey skin crispy and savory. You can add one tablespoon of baking powder to the salt and sprinkle it to the turkey.
Cooked the Stuffing First
Turkey won't be a Christmas turkey without adding some stuffing in it. Some people fill the turkey with raw stuffing and hope it will cook perfectly with the meat. For me, I have tried this way and it doesn't turn good for me. I still can taste the raw food on the stuffing. So, instead of putting it inside the raw turkey, I prefer to cook the stuffing first.
You can cook it and keep it inside the foil. After the stuffing is cooked, you can place it inside the turkey with some garlic, sage, and slice of lemon. It will make the stuffing taste delicious after roasted with the turkey.
Check the Oven Temperature
This is the last tips but this one is extremely important to note. Keep your eyes on the temperature because it can make the turkey overcooked if you don't keep the right temperature.
Roasted turkey for the Christmas is a good idea, isn't it? You can cook a turkey for making the Christmas special and memorable. It is just a perfect dish for the whole member of the families.