Morning routine could be so chaotic, especially when you have two daughters that you need to take care in the morning. I always think that breakfast is an important meal for the family, therefore I never skip preparing breakfast for my family.
Here are several ideas from for preparing easy but delicious breakfast :
Raspberry and Banana Smoothie Bowl
My daughters love this smoothie bowl because of the pink colour. it is also very simple to prepare. Put two cups of raspberry, two bananas, a half cup of Greek yoghurt, a half cup of milk into a blender, mix it well. Then I will put it on the bowl and put almond, granola and toasted coconut flakes as the topping.
Tacos with Scramble Eggs
Actually, I tried this recipe because of my daughters' complaint to me that they get bored with the scrambled eggs. Therefore, I tried to modify it and put it into corn tortillas so it is more appealing for them. I warm the tortillas and put the scrambled egg, cooked beans and top it with cheese.
Chocolate Granola with Yoghurt
Sometimes your children could be tired eating the oatmeal bowl with fruit slices. So, once I tried to give them the chocolate granola and mix it with the Greek yoghurt. Since my daughters are a big fan of chocolate, of course, they really like this food for their breakfast.
Banana Roll with Peanut Butter
This is quite easy to make and good filling for your children. You just need to warm up whole wheat tortilla, then spread the peanut butter on the tortilla, put the sliced banana and chocolate chips or chocolate sprinkle then roll it. Your children will love the combination of peanut butter, banana and chocolate.
Overnights Oats
This is actually my husband favourite breakfast which I could prepare it one night before. Mix a half cup of rolled oats, a half cup of almond milk, a half cup of Greek yoghurt, one tablespoon of honey, one tablespoon of chia seeds and slices of strawberry or raspberry. Mix it all together and put it in a container and store it in the fridge the whole night. You will save lots of time in the morning since you just need to take this from the fridge and enjoy it right away.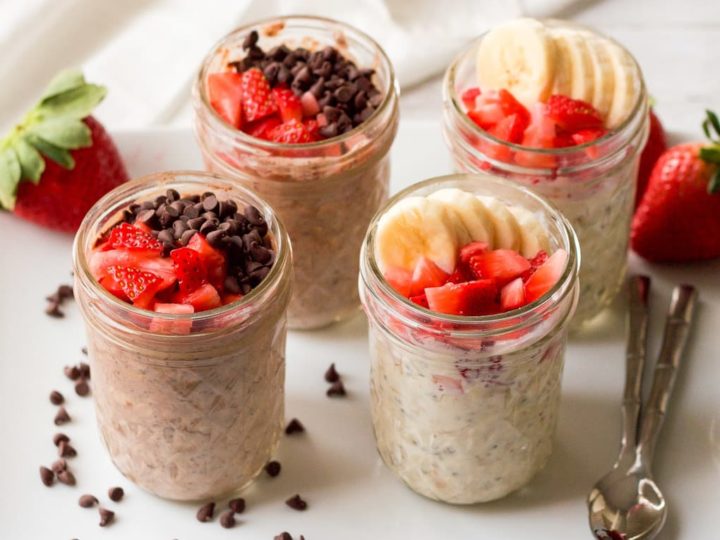 These five recipes are easy to make and could save lots of hassle in the morning. Other things that I like to prepare for breakfast is the whole fruit that I have washed and keep in the fridge, of course, fresh orange juice for the kids and coffee for my husband and me. So, what did you prepare for this morning breakfast?