I have two daughters with the age of seven and three years old. They are obsessed with Disney princess. So, visiting Disneyland is their favourite trip. But it could be a very challenging experience for a mother to bring the kids to Disneyland. Here are some of my survival tips that you can consider on your next trip to Disneyland.
It's Not Easy to Go There Alone
I mean without any adult accompany you. I remember what my mom said to me when I still have one kid and want to go there, Jane, you will not be able to handle it if you go alone, let me go with you!. So, I went to Disneyland with my daughter and my mom, it was the best decision.
Bring Two Bags
One bag will be for heavier stuff and you could hang it on the stroller and another bag is the essential stuff such as park tickets, wallet, phones, snacks and of course diapers. Since sometimes you need to wait in the line without your stroller, so you need to separate this essential stuff in your backpack.
Wear Comfortable Shoes
Since there will be lots of walking and even chasing in a day, you will need to wear comfortable shoes to go to Disneyland. I always wear sneakers since it is the most comfortable shoes that I have. Also, don't wear new shoes to avoid any blisters.
Bring A Stroller
Yes, a stroller is very helpful when you are visiting Disneyland. When your children are tired, they could be in the stroller and you can stroll around so it saves lots of energy instead of holding them. Try also to have a stroller with umbrella covers to protect from the sun and rain.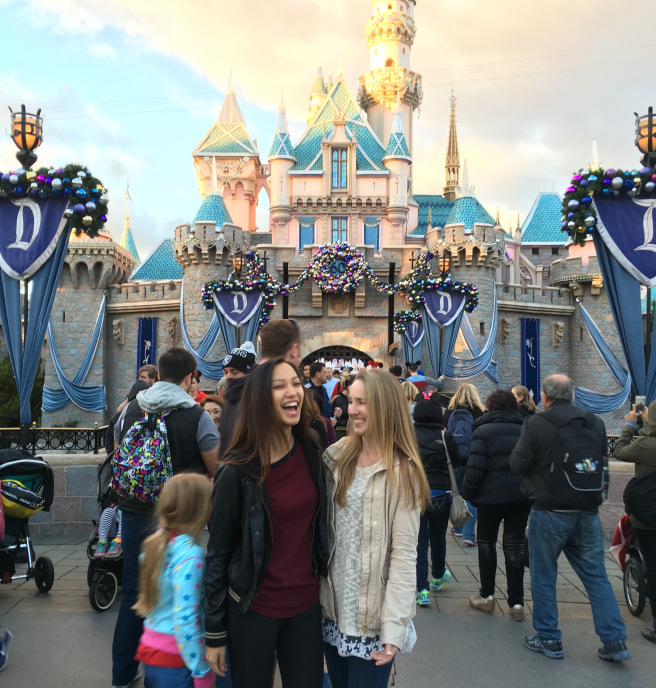 Also, don't miss the Disneyland parades, they will love it! Another recommendation will be to buy the fast passes for the popular rides you save more time. The most important is to have fun and enjoy the magical day at Disneyland!